Here's some of the company we keep. A few of these folks play "old-time" music together in local band Hickory Wind!
Jim Grainger builds and repairs fretted instruments in Sparta, TN. Jim also has a large selection of instruments and accessories for sale, including...
...instruments decorated by internationally renowned, engraving and pearl-inlay artist Joyce Carroll. She's also a professional ventriloquist (and Penny's kid sister!).
Traveling to Spain or doing business in Spanish? Heather helped her friend Jesús González Torres found Target Translations in Madrid, Spain, in 1986.

Joy Bjornberg's and Blaine Parrish's Bella's Italian Bistro in Sparta, TN is great place for great food, live music, local art, and hanging out. We've needed this for along time! Espresso, pasta, chillin'...
Lynn Pallotta breeds and raises miniature and other donkeys in Quebeck, TN: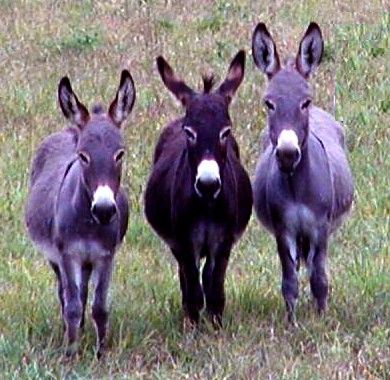 Cozy Cabins and Cottages: nice, affordable vacation accommodation very near Fall Creek Falls State Park. Their site has loads of tourist information.
Emily Moore is a Knoxville-based writer and editor of fiction, non-fiction, technical writing, publicity and screenplays. Many links for writers' resources!
Dennis J. Caruso is an artist and jazz musician based in Sparta, TN. Dennis specializes in wood mosaics. Go and let yourself be surrounded by his art at 24 N. Spring St., Sparta, TN 38583. Phone (727) 207-6957.